Amaranth is a very nutritious leaf that makes nice salad greens. It's techically a seed, not a grain. The leaves are nutitionally similar to beets, Swiss chard and spinach, but are much superior. And they are all over the place, in the wild, when in season here. They contain three times more calcium and niacin than spinach leaves. an excellent source of carotene, iron, calcium, protein, vitamin C and trace elements.
Recipe of the Day – Amaranth Leaf Salad
photo by serious eats
Ingredients:
4 c. amaranth (washed , picked and towel dried leaves .)
1 T. olive oil
Juice of 1/2 lemon
pinch of salt
Directions- Toss.
Word of the Day – amaranto – amaranth
Tip of the Day –
Growing amaranth is possible all year round in the tropics. That's one of the reasons it is an essential and ubiquitous plant in my permaculture garden.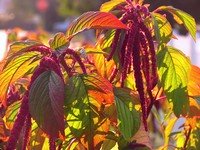 Photo by Dysviz